Recommended Reading
Recommended reading regarding the Royal Berkshire Regiments activities also various aspects of what this site is about.
---
Slim's Burma Boys
By: Colonel John Hill MC
Publisher: Spellmount Books Price: £16.99
ISBN: 9781862274075

Also Available From:
www.thewardrobe.org.uk
www.glosters.org.uk
www.soldiersofglos.co.uk
Description:
Those of you who have read China Dragons will enjoy this account on a more personal level. Written before his untimely death in 2002, is based on his original diaries and day to day wartime experiences. It contains personal stories demonstrating the bravery of his soldiers, who fought in the Burma campaign.
Read review
China Dragons:
a Rifle Company at War, Burma 1944-45.
By: Colonel John Hill
Publisher: Blandford Press
ISBN: 071372275-4
Description:
Account of 'B' Company, 2nd Royal Berkshires in Burma during 1944/45. Colonel Hill mentions many of his men by name. As this book is now out of print you can obtain a facimile copy of the edition from the www.thewardrobe.org.uk.
Life In The Army And In Action With 2nd Battalion The Royal Berkshire Regiment 19th Indian Dagger Div with the XV Army In Burma.
By: L/Cpl William Lowe
Publisher: Donated To The Webmaster
ISBN: N/A
Description:
An unfinished personal account of L/Cpl William Lowe's wartime experience with the C & B Coy's the 2nd Battalion The Royal Berkshire Regiment. Many of his comrades are mentioned by name and feature heavily on this site.
The history of the Royal Berkshire Regiment (Princess Charlotte of Wales's), 1920-1947.
By: Gordon Blight
Publisher: Staples Press
ISBN: B0000CIJOV
Description:
The title speaks for its self. First published in 1953 and is very rare find, hard to track down a copy. You can however obtain a copy from the Rifles regimental museum. www.thewardrobe.org.uk.
The Imperial War Museum Book of the
War in Burma 1942-1945.
By: Julian Thompson
Publisher: Pan
ISBN: 0330480650
Description:
The campaign in Burma was the longest and biggest ground war fought by the British. It was won in some of the bitterest fighting experienced by the Allies in the Second World War. Allied victories, Kohima-Imphal. Using the Imperial War Museum's archives, this text provides a gripping picture of what it was really like.
Slim, Master of War.
By: Robert Lyman
Publisher: Constable and Robinson
ISBN: 1841198110
Description:
Well written and researched. Gives you a good grounding of the man and the genius of the art of war and they respect he had for his men.
The World Reshaped Volume 2
Fifty Years after the War in Asia
By: Richard Cobbold (Editor)
Publisher: Palgrave Macmillan
ISBN-10: 033365451X
ISBN-13: 978-0333654514
Description:
This volume investigates the economic, military and political aspects of the remarkable developments in this part of the world over the past fifty years and has an informative contribution by the late Colonel John Hill.
British Infantryman in the Far East 1941-45
(Warrior S)
BY: Alan Jeffreys
Publisher: Osprey
ISBN: 1841764485
Description:
Valuable information regarding, tactics, training and weapons covers the periods from the Fall of Malaya and Singapore, Reconquest of Burma. Also explores jungle warfare training in India and action in the Burma theatre, covers the Arakan and the battles of Kohima and Imphal. Uniforms, equipment and weapons. Supplies information food rationing, leave and cigarettes.

Slim's Burma boys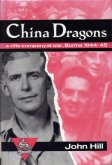 China Dragons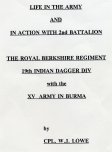 Life in the army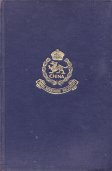 The history of the Royal
Berkshire Regiment

War in Burma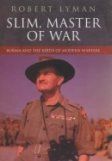 Slim master of war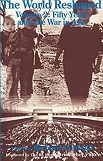 The World Reshaped


British infantry in
the Far East 1941-45