Regiment History
---
Early years:
The Royal Berkshire Regiment (Princess Charlotte of Wales's) was originally formed in 1881, amalgamating the 49th (Princess Charlotte of Wales's) (Hertfordshire) Regiment of Foot with the 66th (Berkshire) Regiment of Foot and originally formed as The Princess Charlotte of Wales's (Berkshire Regiment).

The 49th Foot becoming the 1st Battalion and the 66th Foot became the 2nd Battalion. In 1885 the 'Royal' title was bestowed upon them, (see 'Royal' appointment) and became The Princess Charlotte of Wales's (Royal Berkshire Regiment). 1921 saw the titles switched again to become The Royal Berkshire Regiment (Princess Charlotte of Wales's).

After their services during WWI and II the regiment was amalgamated once more into The Duke of Edinburgh's Royal Regiment (Berkshire and Wiltshire) in 1959.


Regimental Colours:
Each regiment in the British Army has its own flag, known as colours and was, in the earlier years, used to indicate the rallying point after the conclusion of a battle. The soldiers of every regiment look upon their regimental colours with much pride, which is quite apparent if you have ever witnessed the annually held, 'Trooping The Colour', at the Queen's Birthday Parade held on Horse Guards Parade in London in June of each year.

The Royal Berkshires colours carry the regiments' achievements in battle richly embroidered upon it. Sadly, for the Battalion, their flag can now only be viewed in all its splendour at Windsor Castle after they were finally placed within the castle proper on 22nd May 1959.


Called to Colours:
Forces personnel records record the date of having been 'Called to Colours'; this simply states the date on which an individual entered service. This term alone, like all military matters is steeped in history, another term you may encounter is 'Join the Colours', which is not so well known, simply meaning, enlist in the army.


The China Dragon:
The China dragon cap badge worn over the red triangular clothe dates bake to the Chinese opium war of 1840 to 1843 resulting in the regiment being permitted to adopt the China dragon, and to display the word 'China' on their colours etc.

The red triangular clothe a result of the 1777 battle of Brandywine Creek when the regiments green headdress feathers were dyed red so the Americans could recognise the regiment on the field of battle.


'Royal' appointment:
The battalions appointment to 'Royal' was decreed in 1885 by the late Queen Victoria for gallantry in a relatively little known battle called 'McNeill's Zariba'.

The gallant part played by the regiment is known today by it's more commonly used title 'Tofrek' which can be seen carved into the lintel above the entrance to the barrack room at Brock Barracks in Reading.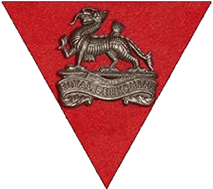 China Dragon Cap Badge


2nd Battalion
The Royal Berkshire Regiment
(Princess Charlotte of Wales's)
1939 - 1959