Return To Medal Index
The detailed descriptions and images were kindly donated by Sarah Jane Framing. Specialists in the refurbishment and framing of medals and other military memorabilia.
---
The Burma Star
History:
Qualifying service in the Burma campaign counted from 11 December 1941 and included service in Bengal or Assam from 1 May 1942 to 31 December 1943, and from 1 January 1944 onwards in these parts of Bengal or Assam east of the Brahmaputra. Naval service in the eastern bay of Bengal, off the coasts of Sumatra, Sunda and Malacca also counted.
The Bar:
If later entitled to that star, the PACIFIC bar would be worn.
Observe:
The star has a circular centre with the GRI/VI monogram, surmounted by a crown and inscribed THE BURMA STAR round the foot.
Mounting:
A small ring at the top of the cross through which a larger ring passes.
Ribbon:
Three equal bands of dark blue (British Forces), red (Commonwealth Forces) and dark blue. The dark blue bands each have at their centres a stripe of bright orange (the sun).
Date:
1945.
Metal:
Bronze.
Size:
Height 44mm Max Width 38mm.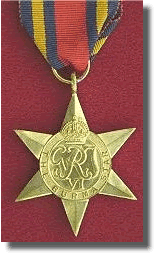 The Burma Star