Return To Medal Index
The detailed descriptions and images were kindly donated by Sarah Jane Framing. Specialists in the refurbishment and framing of medals and other military memorabilia.
---
Distinguished Conduct Medal (DCM)
History:
The need for a gallantry medal for other ranks was first recognised during the Crimean War, although previously the Meritorious Service Medal (qv) had very occasionally been awarded for gallantry in the field. Since 1916 the DCM has ranked as a superior decoration to the Military Medal - It was thus the second highest award for gallantry in action (after the Victoria Cross) for all army ranks below commissioned officers and was available to navy and air force personnel also for distinguished conduct in the field. As a result of the 1993 Review of gallantry awards and resultant changes to the operational gallantry award system, the decoration has been replaced by the Conspicuous Gallantry Cross.
Bars:
A silver, laurelled bar was awarded for a subsequent act or acts of distinguished conduct in the field. Prior to 1916 these were plain dated bars.
Observe:
Originally a trophy of arms but, since 1902, the effigy of the reigning sovereign.
Mounting:
An ornate scroll suspender is attached to the medal by a single-toe claw.
Naming:
The regimental or equivalent number, rank, initials, surname and unit of the recipient are impressed in plain block capitals around the rim of the medal.
Ribbon:
The crimson ribbon is 1.25 inches wide with a dark blue central stripe (0.375).
Date:
The DCM was created on 4th December 1854, because of the Crimea War.
Metal:
Silver.
Size:
36mm.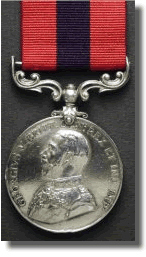 Distinguished Conduct Medal