Return To Medal Index
The detailed descriptions and images were kindly donated by Sarah Jane Framing. Specialists in the refurbishment and framing of medals and other military memorabilia.
---
Distinguished Service Order (DSO)
History:
Intended to reward commissioned officers below field rank for distinguished service in time of war, and for which the VC would not be appropriate. Previously the CB had sometimes been awarded to junior officers, although intended mainly for those of field rank. It was also available to officers in both the other armed services. In September 1942 the regulations were relaxed to permit award of the DSO to officers of the Merchant Navy who performed acts of gallantry in the presence of the enemy. As a result of the 1993 Review of gallantry awards and resultant changes to the operational gallantry and award system, the DSO is now awarded for "Leadership" only - theoretically to all ranks (it is not awarded posthumously). It has been replaced by the Conspicuous Gallantry Cross as a reward for gallantry.
Bars:
A bar is awarded for an act which would have earned the order in the first place. The bar is plain gold with an Imperial Crown in the centre. The year of the award is engraved on the reverse. A silver rosette on the ribbon alone is worn in undress uniform.
Observe:
In the centre, within a wreath of laurel, enamelled green, the Imperial Crown in gold upon a red enamelled ground.
Reverse:
Within a wreath of laurel, enamelled green, the Royal Cypher in gold upon a red enamelled ground.
Mounting:
A ring at the top of the medal attaches to a ring at the bottom of a gold bar, ornamented with laurel. At the top of the ribbon is a second gold bar ornamented with laurel.
Ribbon:
The crimson ribbon is 1.125 inches wide with narrow blue edges. A rosette is worn on the ribbon in undress to signify the award of a bar.
Naming:
The Royal Warrant was published in the London Gazette on 9th November 1886.
Date:
The Royal Warrant was published in The London Gazette on the 9th November 1886.
Metal:
Originally gold; Silver-Gilt (since 1889).
Size:
Height 55mm ; Max Width 41.5mm.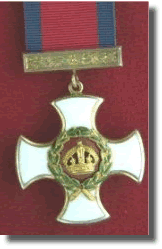 Distinguished Service Order