Return To Medal Index
The detailed descriptions and images were kindly donated by Sarah Jane Framing. Specialists in the refurbishment and framing of medals and other military memorabilia.
---
Efficiency Medal
History:
This medal consolidated the awards to other ranks throughout the volunteer forces of Britain and the Commonwealth. The basic qualification was 12 years service, but war service and peacetime service in West Africa counted double. The Militia bar was granted to certain categories of the Supplementary Reserve until the formation of the Army Emergency Reserve in 1951. In 1969 the bar inscribed T & AVR was introduced, along with a ribbon half blue, half green, with yellow edges. The bar TERRITORIAL was resumed in 1982 but the ribbon remained the same.
Observe:
An oval silver medal showing the reigning monarch's effigy.
Reverse:
Inscribed FOR EFFICIENT SERVICE.
Ribbon:
Green with yellow edge - members of the HAC wear the medal with the scarlet and blue ribbon edged in yellow.
Date:
17th October 1930.
Metal:
Silver
Size:
Height 39mm max width 32mm.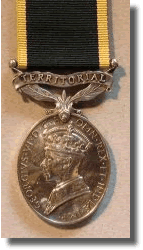 Efficiency Medal