Return To Medal Index
The detailed descriptions and images were kindly donated by Sarah Jane Framing. Specialists in the refurbishment and framing of medals and other military memorabilia.
---
George Medal (GM)
History:
Awarded for acts of bravery where the services were not so outstanding as to to merit the George Cross. Though primarily a civilian award, it has also been given to service personnel for heroism not in the face of the enemy.
Bar:
The silver, slip-on bar is laurelled and is awarded for a further act of bravery.
Observe:
The obverse shows a crowned effigy of the reigning monarch and a legend:
King George VI
(a) GEORGEIVS VID: G: BR: OMN: REX ET INDIAE IMP: (1940-1949).
(b) GEORGIVS VI DEI GRA BRITT: OMN REX FID: + (1949-1952).
Reverse:
The reverse shows St. George on horseback slaying the Dragon with the legend THE GEORGE MEDAL around the top edge of the medal. (modelled by George Kruger Gray, after the bookplate by Stephen Gooden for the Royal Library, Windsor).
Mounting:
A single-toe scroll claw at the top of the medal has a hollow ball through which a larger silver ring passes.
Ribbon:
The crimson ribbon is 1.25 inches wide, with five equally spaced thin blue stripes.
Naming:
Names are engraved in Roman capital letters (usually with serifs). Servicemen normally have their first name and surname in full (plus rank and regiment or corps), while civilians have only the surname and initials.
Date:
The George Medal was established on 24th September 1940.
Metal:
Silver.
Size:
36mm.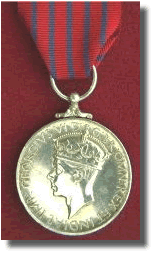 George Medal