Return To Medal Index
The detailed descriptions and images were kindly donated by Sarah Jane Framing. Specialists in the refurbishment and framing of medals and other military memorabilia.
---
Army Long Service and Good Conduct Medal
History:
Originally awarded to soldiers of exemplary conduct for 21 years service in the infantry or 24 years in the cavalry, but in 1870 the qualifying period was reduced to 18 years. During the second world war commissioned officers were permitted to acquire this medal so long as they had completed at least 12 of their 18 years service in the ranks. Canada discontinued the LSGC medal in 1950 when the Canadian Forces Decoration was instituted, while South Africa replaced it with the John Chard Medal later the same year.
Description:
Until 1901 the obverse bore a trophy of arms with the royal arms in an oval shield in the centre while the reverse bore the inscription FOR LONG SERVICE AND GOOD CONDUCT. The first issue had the royal arms with the badge of Hanover on the obverse and small suspension ring with a plain crimson ribbon. A large ring was introduced in 1831. On the accession of Queen Victoria in 1837 the Hanovarian emblem was dropped and from the arms. In 1855 a swiveling scroll suspension was substituted and in 1874 small lettering replaced the original large lettering on the reverse. From 1901 the effigy of the reigning sovereign was placed on the obverse although the reverse remained the same. In 1920 the suspension was changed to fixed. In 1930 the title of the medal changed to the Long Service and Good Conduct Medal (Military) Medal; at the same time the design was again modified. A new fixed suspension bar was added, bearing the words REGULAR ARMY or the name of a dominion (India, Canada, Australia, New Zealand or South Africa) the obverse lettering was changed to tall thin lettering. This replaced the Permanent Forces of the Empire LSGC Medal.
Ribbon:
Plain crimson until 1917 when white stripes were added to the edges.
Naming:
The LSGC is invariably named to the recipient. To 1854 impressed with name and date. 1855 impressed name not dated. Later Victorian issues engraved in various styles. 1901 onwards impressed in small capitals of various styles. Medals to Europeans in the Indian Army engraved in cursive script.
Date:
1830.
Metal:
Silver.
Size:
36mm.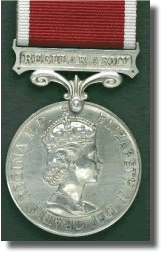 Army Long Service And
Good Conduct Medal