Return To Medal Index
The detailed descriptions and images were kindly donated by Sarah Jane Framing. Specialists in the refurbishment and framing of medals and other military memorabilia.
---
Military Cross (MC)
History:
There was no gallantry award, lesser than the VC and DSO, for junior officers and warrant officers until shortly after the outbreak of the First World War when the MC was instituted. Originally awarded to captains, lieutenants and warrant officers of the Army (including the RFC), it was subsequently extended to include equivalent ranks of the RAF when performing acts of bravery on the ground and there was even provision for the Royal Naval Division and the Royal Marines during the First World War. Awards were extended to majors by an amending warrant of 1931. As a result of the 1993 Review of gallantry awards and resultant changes to the operational gallantry award system, this award is now available to both officers and other ranks, the Military Medal having been discontinued.
Bars:
Bars for second and subsequent awards have a crown at the centre.
Observe:
On the finials of each arm of the cross is an Imperial Crown and in the centre of the cross is the Imperial and Royal Cypher of the reigning sovereign (GV, GVI, or EIIR).
Reverse:
The reverse is plain with the year of the award engraved on the lower arm.
Mounting:
The ring welded to the top of the cross is joined to the plain straight suspender ring by a small ring (3 rings).
Ribbon:
A watered white ribbon (1.375" wide), with a central purple stripe (0.5" wide).
Naming:
The MC is always issued unnamed, although since about 1938 the reverse of the cross or bar is officially dated with the year of issue.
Date:
The Military Cross was established on 28th December 1915.
Issued:
WWII 15,000 + 177 first bars + 1 second bar.
Metal:
Silver.
Size:
Height 46mm; Max Width 44mm.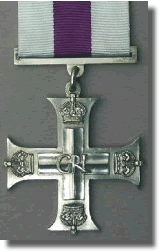 Military Cross