Return To Medal Index
The detailed descriptions and images were kindly donated by Sarah Jane Framing. Specialists in the refurbishment and framing of medals and other military memorabilia.
---
Military Medal (MM)
History:
Awarded to NCOs and men of the Army (including RFC and RND) for individual or associated acts of bravery not of sufficient heroism as to merit the DCM. In June 1916 it was extended to women, two of the earliest awards being to civilian ladies for their conduct during the Easter Rising in Dublin that year. As a result of the 1993 Review of gallantry awards and resultant changes to the operational gallantry award system, this award has been replaced by the MC which is now available both to officers and other ranks.
Bar:
The silver, laurelled bar is awarded for a subsequent act or acts of bravery and devotion under fire.
Observe:
The sovereign's effigy - six types.
King George V: A bareheaded effigy, in Field Marshal's uniform, facing left, and the legend:
GEORGEIVS V BRITT: OMN: REX ET IND: IMP:
King George VI:A crowned effigy, facing left, and one of the legends:
(a) GEORGEIVS VI D: G: BR: OMN: REX ET INDIAE IMP: (for WWII).
(b) GEORGEIVS VI DEI GRA: BRITT: OMN: REX FID: DEF: (for Korea).
Queen Elizabeth II: A crowned effigy, facing right, and the legend:
ELIZABETH II D: G: BR: OMN: REGINA R: D: (for Korea)
Reverse:
The reverse shows FOR/BRAVERY/IN THE/FIELD in four lines, encircled by a laurel wreath and surmounted by the Royal Cypher and Imperial Crown.
Mounting:
An ornate scroll suspender is attached to the medal with a single-toe claw.
Ribbon:
A dark blue ribbon, 1.25 inches wide, with five equal centre stripes of white, red, white, red, and white (0.125" each).
Naming:
The regimental or equivalent number, rank, initials, surname and unit of the recipient appear in plain block capitals around the edge of the medal.
Date:
The medal was instituted on 25th March 1916.
Issued:
WWII 15,000 + 177 first bars + 1 second bar.
Metal:
Silver.
Size:
36mm.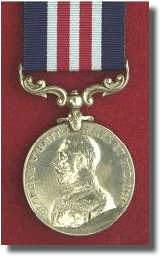 Military Medal