Return To Medal Index
The detailed descriptions and images were kindly donated by Sarah Jane Framing. Specialists in the refurbishment and framing of medals and other military memorabilia.
---
The War Medal 1939 - 1945
History:
All full time personnel of the armed forces wherever they were serving, so long as they had served for at least 28 days between 3 September 1939 and 2 September 1945 were eligible for this medal. It was granted in addition to the campaign stars and the Defence Medal. A few categories of civilians, such as war correspondents and ferry pilots who had flown in operational theatres, also qualified. For members of the Merchant Navy the 28 days had to be served at sea.
Bars:
A single oak leaf emblem is worn to signify a Mention-in-Despatches and the silver oak leaf signifying a King's Commendation for Brave Conduct is worn on this medal. There is no bar other than these emblems.
Observe:
The obverse shows the crowned coinage effigy of King George VI, facing left, and the legend GEORGIVS VI D : BR : OMN : REX ET INDIAE IMP.
Reverse:
The reverse shows a lion standing wanton on the body of a double-headed dragon. The dragons heads are those of an eagle and a dragon to signify the principal occidental and oriental enemies. At the top, just right of centre are the dates 1939/1945 in two lines.
Mounting:
A plain, straight non-swiveling suspender with a single-toe claw.
Ribbon:
The ribbon is 1.25 inches wide and consists of 7 coloured stripes: red, dark blue, white, narrow red (centre), white, dark blue, and red.
Naming:
The medals were issued unnamed, except those awarded to personnel of the Canadian Merchant Marine and RCMP, which were named on the rim. Australian and South African versions were also named.
Date:
The award was established on 16th August 1945.
Issued:
There were 700,000 issued.
Metal:
Cupro-Nickel.
Size:
36mm.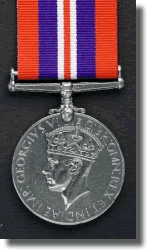 The War Medal 1939 - 1945