Memorial Plaque Mandalay Hill
A memorial plaque donated after the war had been erected in honour of the 2nd Battalion and stands at the entrance to a pagoda near the top of Mandalay hill. These images were made possible through the unselfish efforts and hard work of Thandar Nay Win and her associates for which I personally remain forever grateful.
The Memorial Reads.....
Erected to commemorate the
fierce fighting in the clearance
and final capture of
Mandalay Hill
by the 2nd Bn
The Royal Berkshire Regiment
March 10th to 12th 1945.
Image 1 - Arrow indicates the exact location of the pagoda which houses the plaque. click to view
Image 2 - Shows the plaque at the foot of the steep staircase within the pagoda. click to view
Image 3 - Frontal view of the plaque behind its protective wire grid. click to view
Image 4 - Somewhat closer view of the plaque. click to view
Image 5 - Close-up view of the plaques inscription. click to view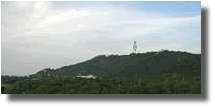 Image No.1




Image No.2


Image No.3


Image No.4


Image No.5